Two devastating hurricanes have hit America in a short span of time. First, hurricane Harvey hit Texas and Louisiana and shortly after him, hurricane Irma unleashed its wrath on a majority of Florida.
Even with all the destruction and panic, people have still managed to stay hopeful that tomorrow will be better. Americans have been working together, volunteering and helping each other, at the same time showing what America is all about.
As news about Hurricane Irma spread, residents across Florida started evacuating. Robert and Lori Clark though about how shelters, homes, and hotels would fill really quickly, so they decided to find a way to pitch in and help fill some empty bellies.
They bought a lot of supplies, swung by the Alabama Welcome Center and put up a tent for all to see. What they did was give out free hot dogs, reports My Right America.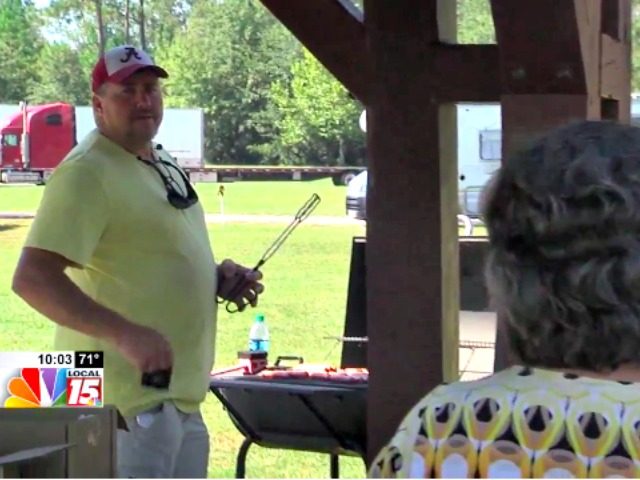 Soon after, other volunteers joined them, handing out water bottles and snacks free of charge. Thanks to these people, that horrible day was made into a nicer one. Reports from Breitbart read:
As thousands of Floridians flock to Alabama to avoid Hurricane Irma, one Alabama couple is ensuring that evacuees are well-fed on their journey to higher ground.

WTHR reports that several residents of Fairhope, Alabama, pitched a tent at the Alabama Welcome Center on Interstate 10 and cooked hot dogs for those on the road.

"It ain't in their budget for what they're having to do right now. These restaurants are gonna be packed. Just seemed like the thing to do," Robert Clark, who started the idea with his wife, told WPMI.

Clark and his wife, Lori, say they have fed hundreds of weary travelers, including one family who spent 15 hours in the car traveling from their home in Port Charlotte, Florida, on the Gulf Coast.

Volunteers are also handing out water bottles and snacks as well as the hot dogs at no cost to those hitting the road.

"It makes you feel good but we're all supposed to help each other. Unfortunately, sometimes it's only during a storm. But we just want people to know we're thinking about them and care about them," Lori Clark said.
What do you think about this? Share this on Facebook and Twitter SCROLL DOWN FOR MORE